The Style of the Costa Smeralda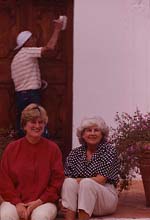 People often tell me that they'd like to have a house with the interior decor "in the Costa Smeralda Style". I immediately understand what they mean: softly coloured beams or rafters, hand painted furniture - often adorned with floreal designs Sardinian carpets, (usually white), curtains and setters in precious Sardinian materials and antique chests, symbol of the island's handicrafts. Such a desire is completely justified because the combination of all these things results in a warm inviting home.
Who initiated this style of interior decorating? Let me tell you:
Many years ago, in 1962 to be precise, the great architect Jacques Couelle completed the magnificent Hotel Cala di Volpe - the very first hotel to be built on the Costa Smeralda.
The furnishing and decorating of the rooms were all important, in that they had to conserve and interpret the spirit in which the architect has designed the hotel. He then invited his chosen interior decorator, Madame Laurette Thienneaut from Aix-en-Provence, to come to Sardinia in order to fulfill this no mean task. Once having set foot on the island she was so enchanted with Sardinia and its handicrafts that she never abandoned it since. She accomplished the blending of local handicrafts with her Provenšale culture, so giving birth to the greatly successful style known as Costa Smeralda.
After the Cala di Volpe, other buildings appeared: the Hotel Cervo, designed by the architect Vietti and furnished by Miss Magliano, the Tennis Club, the Hotel Romazzino, the beautiful bar Il Portico, built in the square of Porto Cervo and designed by Savin Couelle, son of the great Jacques.
I invite you to visit all these fine buildings and you'll find the each has its fascinating unmistakable individuality. Madame Laurette's style has spread to villas and apartments, to Italy's mainland, to France and to Austria and has even reached Memphis in the United States, adopted in both the home of the General Director and the offices of the Holiday Inn chain of hotels.
Madame Laurette has been lucky in having her daughter Veronique Latil Thienneaut by her side. From a very early age Veronique wanted to follow in her mother's footsteps - rather like her mother did with Jacques Couelle many years ago, and is now her mother's right arm and sole trustee of this art.
Studio Seven (0789-91249), their studio/workshop with its wealth of art and fine taste, really merits a visit and is situated near the restaurant Rosemary at Liscia di Vacca.

Mabi Satta
June 1995
l-camillo.com
Copyright L. Camillo 2000