Trekking itineries on the Costa Smeralda




While the Costa Smeralda is rightly famous for its sun, sea and sand, it also offers plenty of opportunities for keen hikers. With this in mind, The Coast has selected a number of interesting walks for readers to try as an
alternative to lolling around on the seaside.
Sardinia's hills and mountains with their wild and untouched beauty are ideal destinations for hiking. Although this aspect of the island's appeal is relatively underdeveloped, the extensive oak forests, the thick shrubs of
strawberry-trees and junipers and the impressively sculpted granite outcrops that dot the landscape make for superb backdrops to some spectacular walks.
Unfortunately, there are still few marked tracks to follow, and even fewer indications of suitable paths for younger children or the elderly.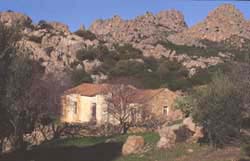 Piccolo Pevero - Spiaggia del Cervo
Degree of difficulty - easy
Time (round trip) - 2 hours
You start out from the Grande Pevero beach where a small road leads off the far side of the beach. The path passes an old firing range before reaching the Cervo beach which can only be reached by foot, although the Hotel Cervo takes guests by boat.

Piccolo Pevero - Romazzino
Degree of difficulty - easy
Time (round trip) - 1.5 hours
Take the small road that leads up from the Piccolo Pevero car park behind the villas. Follow it around the back of the Grande Pevero beach where you'll meet a tarmac road (there¹s a heliport alongside further on) which
leads onto Romazzino.

Santa Teresina - Monte Moro
Degree of difficulty - easy
Time (round trip) - 3 hours
Many moons ago there was a signpost on the road to Arzachena, near Santa Teresina, which boasted "The most beautiful view in the world". The signpost has gone, but the breathtaking panorama is still there and more than
justifies the eulogy. It's almost as if you can see the whole world from here and from the peak of Mount Moro. The mountain is named after the Moors (Moro) as it was used by the locals to keep a look-out for the Moor pirates
who used to pillage the Sardinian coastline right up until the end of the last century.

Liscia di Vacca Alta - Monte Moro
Degree of difficulty - moderate
Time (round trip) - 1 hour
This path was originally opened up by coal merchants who used to plunder the Sardinian forests, burning huge piles of centuries-old junipers to make coal to sell to the big cities. You can still see the terraced clearings used to
gather and burn the wood and the earth is still black from the carbon.
Leaving the Tetzner area (famous for its Easter celebrations) behind you, follow the footpath to the very top where it peters out. Apparently, the path once proceeded as far as Monte Moro, but the route has long been lost
to sight.

Liscia di Vacca (the Orecchioni nursery) - Monte Moro
Degree of difficulty - hard going
Time (round trip) - 3 hours
This is a walk for experienced hikers as it is steep in places and the path is sometimes difficult to follow. But it offers superb views over Porto Cervo and the coast around Liscia di Vacca. This was another footpath used
by locals to reach Monte Moro, but at least this one is still visible. There are a number of grottoes along the route which were probably once used as shelters in ancient times.

San Pantaleo - Punta Cugnana
Degree of difficulty - hard going
Time (round trip) - 3 hours
These are the most spectacular mountains on the island. The footpath starts in San Pantaleo next to a house called Casalloni and proceeds through olive groves before ending at a disused animal pen. Follow the pipes that lead to
a spring then climb the steep gorge. There are several alternative routes for expert climbers armed with ropes, but most keen hikers can get quite high up without.

Castello Balaiana (Luogosanto)
Degree of difficulty - easy, 350 metres
Time (round trip) - 1 hour
Luogosanto's town council has marked out a very attractive footpath laid out with granite steps and benches, and wooden railings to assist those climbing up to visit the ancient castle of Balaiana and the pretty little chapel of
St Leonard which dates back to the 12th century.

L. Camillo
l-camillo.com
Copyright L. Camillo 2005