Ivana and Gianni, with two sons, Marco and Claudio, followed Dino in his various business ventures, going to the Canary Islands to manage the "Don Camillo" restaurant in Puerto della Cruz that he had opened; to Paliano, south of Rome, to finish the construction of a block of 20 flats; and then to Rome to renovate and manage the Motel Americana. Once this last property was ably sold to a Chinese group, they purchase a lovely farm in Tuscany near Siena, at Rapolano Terme and all moved there to live. Gianni had gifted hands and quickly turned the old farmhouse into a beautiful home and he also tended the vineyard, producing an excellent Chianti wine. Gianni slowly developed his hobby of restoring antique furniture into a thriving business, acquiring an astonishing degree of skill in his work. However, sentimentally, he was less fortunate and his marriage with Ivana deteriorated, finally ending with their separation in 1993, when she moved to Sardinia. She later moved to Florence, to be closer to her sons, where she took over a small hotel in the centre of Florence, the Hotel Cestelli.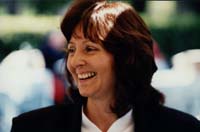 Ivana Nardini Camillo

Claudio was conscripted as a parachuter in the army and actually saw action that year in Somalia. He has since acquired a passion for opal digging, shared with Peter Revrenna in Australia. The older brother, Marco, studies architecture at university in Florence and is a handsome but shy fellow and the limerick that his name inspired, should be read more as an encouragement to him than as an admonition:

A young fellow called Mark,


took his girl to the park.


A squeeze and a kiss,


he gave to the miss


and got home, well after dark.

Jiannina had suffered leaving Australia, for she was at the critical age of an early teenager, and found herself in a strange land without friends. Fortunately she eventually met Sandro in 1970, who became an electronics technician, specialised in the maintenance of airline's booking system and who is required to travel extensively for his work.

A gentleman by name of Sandro,


turned out to be a maestro.


For funny software,


he relished a flair,


but in riches was much less allegro.

They married and had two boys, Stefano and Adriano, Stefano, keen on underwater archeology and Adriano on the Arts.

Jiannina surprised everyone by taking up acting at a rather late age and made a very successful career, using the stage name Giannina Salvetti. With a few friends, she formed her own company, "SocietÓ per Attori" and for a long time they ran a series of plays by the Irish playwrite, Alan Ayckbourn, taking them on tour all over Italy. Memorable performances were: Bedroom Farse (Camere da Letto), Confusions (Confusioni), Absurd Person Singular (In Cucina), Just Between Ourselves (Detto Fra Noi). A picturesque event was the staging of The Women of Troy (Le Troiane) by Seneca, with her 8 year old son Adriano in the guise of Astianatte, in the Roman ruins of Ostia Antica, on the very stage used by the actors 20 centuries ago.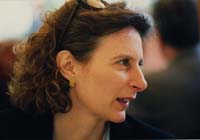 Jiannina Salvetti Camillo Click for more photos
Jiannina is exceptionally good in her monologues; her most recent one, completely written and produced all by herself, was A Room of One's Own (Una Camere Tutta per Se) based on Virginia Woolfe, remarkable being her ability of alternatively performing, weeks on end, one night in Italian and the following night in English, without mixing the two languages.
She is currently performing at the prestigious Teatro Argentina in Rome, in a play attended by none the less as the President of the Italian Republic.
She also has a translation service, Translate Express, which can be contacted at www.txpress.it.
Return to Menu of Camillo Story
l-camillo.com
Copyright L. Camillo 2000