Dino had quite a way with his grandsons and was very affectionate with them. He expressed great satisfaction at the arrival of Alessandro, Laurence's son, as he would be the only one of all the six grandchildren to carry on the surname Camillo.
After finishing the block of flats in Paliano and having sold out their shares in the Motel Boomerang, Dino and Rina moved definitively in 1974 to live in their little holiday cottage in Santa Teresa di Gallura in the northern tip of Sardinia, in front of Corsica. This is a very pretty town with a spectacular landscape and coastline.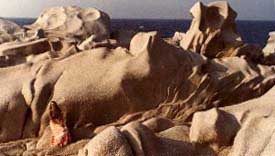 The rocks at Capo Testa near Santa Teresa di Gallura
The wind-sculptured granite rocks of the nearby promontory of Capo Testa, provided inspiration for the English sculptor Henry Moore. Here you can still find lying on the beach, the roughly hewn and unfinished granite columns that were to be shipped to ancient Rome, but abandoned for some mysterious reason. Laurence even found two Roman coins on the beach there!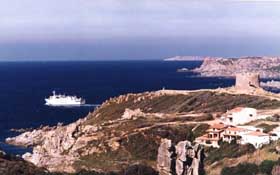 The ferry leaving Santa Teresa for Bonifacio in Corsica

Santa Teresa is an idyllic setting and Dino and Rina settled down to a happy life there, receiving their many friends in summer.

A couple from Santa Teresa


with fish would fill their big freezer.


To lunch and to dine,


with very good wine


they would invite every odd geyser.

They were also well received by the local village people, from the elderly widow Santina next door, the fisherman Luigi, further down the road, who supplied them with fresh fish and the friendly plump postwoman Antonella, who kept them informed each day on the town's gossip.

Dino had a wooden motor launch and became an expert fisherman, braving the frequently rough waters of the Straights of Bonifacio, between the islands of Sardinia and Corsica.

However, swimming and fishing were not enough for the active Dino; so he was soon building again, first a block of three flats, then seven flats near the port; then ten flats near his home (this in partnership with his brother Terry, who also had taken to visit Sardinia). Dino then purchased an old building in the main street, partly demolished it and rebuilt three shops and an apartment there.

To the never-ending surprise of his son, Dino always managed to quickly sell by himself all of his houses, even in times of a slack market without the help of any real estate agency and often "on paper", that is before construction has been completed, or even before the building actually begins. Dino inspired a sense of trustworthiness, always respecting his obligations and his clients often became good friends, rebutting the following mischievous dig of his son on the houses that he built:

A builder from Via Sicilia,


built houses that were sure to chill ya.


No windows, no doors,


only cardboard for floors,


but prices that were no trivia.

Had he been given the chance, Dino would have restructured the whole town, but here again he came against Italian Bureaucracy, which held him up no end. While interminably waiting for construction permission for another block of flats (as it was no longer possible in Italy to build without it) he and Rina spent two years in Australia, happily visiting their many friends there. Unable to keep still even on holiday, Dino kept an eye on a construction site (Villa Venezia) in Hervey Bay in Queensland near Fraser Island, for his friend David Barro of Melbourne.

During this period Dino's health started to fail and he came down with rheumatic arthritis and the many medicines this required, further weakened him. Back in Santa Teresa, the many setbacks and disappointments in obtaining building permission for his latest project demoralised Dino and took a further toll on his health.

He developed fibrosis of the lungs and quickly degenerated. He finally received the long sought-after building permission and commenced excavations for the foundations, which required dinamiting the hard granite rock. But shortly after, in December of 1993, he had to be hospitalised in Sassari, where on the 24th of January, surrounded by his family, Dino quietly passed away.

One of his last wishes was that Ivana and Laurence finish the new project in Santa Teresa. Ivana, who had previously moved there, took over the construction of the flats and, with help from her brother, successfully completed the whole operation, surely under the watchful eye of Dino.

Return to Menu of Camillo Story

l-camillo.com
Copyright L. Camillo 2000